Lebron James Seeks to Uplift Akron Through Job and Finance Training
December 30, 2020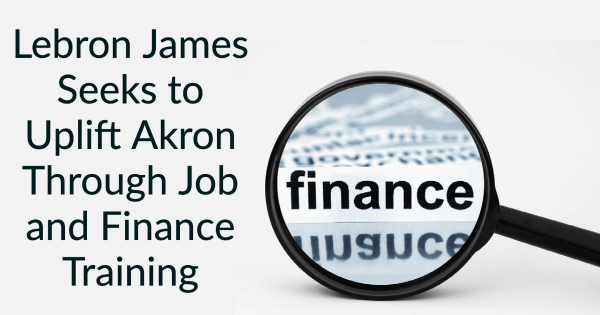 Unfortunately, many Americans lack the finance training that they need to properly manage their money and their households in general. Even fairly basic tasks can be difficult for a surprisingly large amount of people, including those that have high-paying jobs. The issue is that this can cause people to struggle with more debt than some would realize. Typically, an American household with at least one credit card will have almost $10,700 in credit card debt. Credit cards are tempting for Americans, a way for them to make large purchases before they have the money they need in their pockets. But credit card debt can grow quite quickly, especially when interest rates and other fees are tacked on to those credit cards. Many of the decisions that Americans will make involve quite significant debt. Most people go into debt in order to attend college or to purchase a home. Medical debt is also a common issue for Americans and can be quite difficult to navigate. This is why some have called for financial literacy to be taught to students in high school. Additionally, there has been a movement towards financial literacy courses being made available to adults regardless of whether or not they are pursuing degrees. Perhaps surprisingly to some, Lebron James's foundation is moving to make both financial literacy education and job training available to those in Akron, Ohio.
An Akron native, Lebron James has been famously loyal to his hometown for many years. While he has devoted much of his time to his basketball career, off the court he has spent time raising money for the city and promoting a variety of different services there. James began with organizing a charitable bike-a-thon in Akron, and over the years his efforts grew. In 2013, the Lebron James Foundation donated $280,000 worth of Samsung personal tablets to third grade students in Akron. This gradually led to James wanting to open a school in the area.
In 2018, the I Promise School was opened. As of now, the school has grown to include 450 students ranging from third graders to sixth graders. An important component of the school is that it offers services to students and their families outside of the school. For many students that are struggling with poverty or other issues, school is one of the only places in which they can receive consistent meals and care. The I Promise School ensures that this is not the case. Students and their families are given access to both medical care and mental health support outside of the classroom. Receiving this kind of help allows students and their families to avoid some of the financial burden caused by a lack of access to affordable healthcare services. Additionally, it ensures that students are able to focus on their studies rather than the stressors that come with health challenges and being unable to afford treatment.
Another component of the I Promise School is that students are able to attend both the University of Akron and Kent State University free of charge. As many will understand after receiving finance training, a university education offers a great deal of value. Those with university degrees are often considered more favorably when applying for high level jobs, and universities offer specialized trainings and education that is not attainable through alternative outlets. For example, it's much easier for people to break into high-paying fields like those of certified broker dealers if they've earned university degrees related to finance. The issue is that a university education can cost upwards of $100,000, meaning that many cannot afford to pay out of pocket and resort to high-interest student loans. A free university education can change the lives of I Promise students.
Yet for James, this is not enough. The latest efforts by the Lebron James Family Foundation can change the city of Akron not only for I Promise School students, but residents in general.
House Three Thirty: Offering Akron Residents the Ability to Become Financially Literate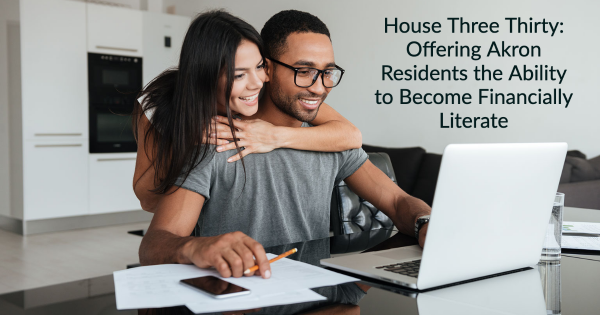 The Lebron James Family Foundation has recently unveiled its latest plans to transform the city of Akron in the form of House Three Thirty. The venue takes up 60,000 square feet and is meant to offer a variety of different services and opportunities to Akron residents. This will include not only recreational activities for the city's youth population but job and finance training as well. All of Akron will be able to access the services offered by House Three Thirty, which will also include amenities like a private card room, a small restaurant space, and a coffee bar. Projected to be ready for use by 2022, House Three Thirty is meant to give families a place to relax and enjoy each other's company, while at the same time allowing them to be educated on important issues if they wish. Furthermore, the vocational focus of House Three Thirty offers an alternative to those that are not interested in pursuing a college education.
The Lebron James Family Foundation drew inspiration for House Three Thirty directly from what the people of Akron said that they needed, rather than what the foundation could theorize they needed. Previously, the foundation had installed the I Promise Village, a transitional housing complex for Akron families in need. Families are able to use this affordable housing and temporarily live in a space where they don't need to worry as much about whether or not basic needs like ventilation services will be taken care of. Foundation employees undertook the challenge of interviewing families in the I Promise Village to assess what they felt Akron most needed. Because foundation employees had developed a personal, trusting relationship with these families they were able to obtain authentic information that would help them assess the immediate needs of people undergoing a transition in the city. It therefore quickly became clear that job and finance training would offer these families what they most required to pursue better futures.
There are other long term benefits to the installation of House Three Thirty. House Three Thirty will be run by the Lebron James Family Foundation, but it will offer job opportunities to both students and families in Akron. Most notably, its dining outlet will be an Old El Paso fast casual restaurant, which will serve Mexican food to the area. Students and families working there will learn from working there.
In addition, there will be job training in sectors throughout the rest of House Three Thirty. People will be able to learn about event planning and accounting, as well as more practical skills like plumbing, heating and cooling, and food service. This kind of training will make Akron residents more marketable for a variety of different jobs, whether they want to offer HVAC services or enter the plumbing industry in the future. An important part of House Three Thirty is offering people the ability to make choices in the future, rather than being relegated to working in industries that they wouldn't necessarily choose for themselves. The finance training available can be applied to future jobs, and it can be applied to simply running a household budget, ensuring that people understand how to manage their money more efficiently.
From the Tangier to Three Thirty: Transforming a Local Landmark
House Three Thirty has a history that Akron residents can appreciate. The Lebron James Family Foundation purchased the Tangier, a local Akron landmark, with the goal of transforming it into House Three Thirty. The Tangier hosted a variety of different entertainment events in the past, with Tina Turner and the Temptations being among the most famous acts that performed there. This means that Akron residents will be more aware of House Three Thirty's availability and the job and finance training that it will offer. House Three Thirty will ultimately be just a few blocks away from the I Promise School as well.
Emphasizing the importance of finance training is extremely important to the Lebron James Family Foundation and therefore House Three Thirty will be partnering with JP Morgan Chase in order to ensure that the training offered to Akron residents is as comprehensive as possible. JP Morgan Chase bankers will work at a dedicated space in House Three Thirty, offering families both products and specialized advice that will help them become more financially healthy in the long term. Not only will this allow people to become more hands-on in regards to their own financial training; it will also help break down a lack of trust in banks that is common in the U.S. People often don't understand what happens within banks, and therefore they don't ask questions and use them as they should. At House Three Thirty, bankers will be able to explain financial health to families and build trust with them, offering products like savings accounts and options that will help people grow their wealth in really simple, straightforward ways.
JP Morgan Chase is not the only big business that is partnering with the Lebron James Family Foundation in order to ensure the success of House Three Thirty. Dick's Sporting Goods is also assisting the foundation in a major way. With the help of Dick's Sporting Goods, the top of the Tangier parking garage will be turned into a youth sports complex. Right now, this is projected to include three basketball courts, a soccer field, and other spaces for recreational activities. Additionally, meals and community events will be hosted by the J.M. Smucker Hometown Hall. While job and finance training is important, it's also key for people in Akron to have wholesome family outlets, and places where they can relax and enjoy each other's company at the end of the day. Furthermore, these types of outlets are extremely important for the youth community, offering them positive ways to occupy their time.
Creating an Impact: House Three Thirty and Its Imprint on Akron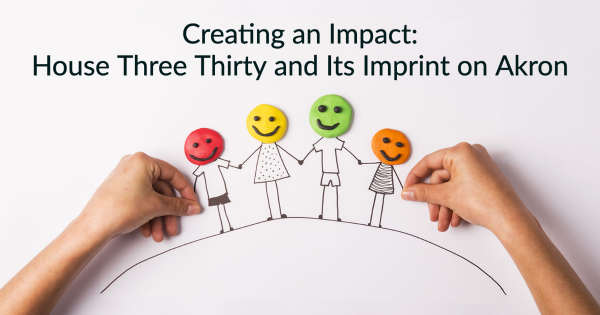 The Lebron James Family Foundation wants to leave a long-lasting mark on Akron, and that is one reason why House Three Thirty is being constructed. While the I Promise School has made a major impact on the community, the foundation understands that the school itself cannot help everyone. There is a limit to the number of people that can be helped by the school, while House Three Thirty will have a broader reach. Through its job and finance training, House Three Thirty is a way for the foundation to more directly reach Akron residents that are experiencing poverty.
The fact that the foundation and House Three Thirty are connected to Lebron James is not only a source of pride but a source of inspiration for the community. Therefore, House Three Thirty will also house a museum dedicated to James, who hopes that the project will be a model for other cities in the future.
Ideally, the community-driven focus of House Three Thirty will prove to other cities that people experiencing poverty can become upwardly mobile with assistance from their community. This will be driven by the success of people that benefit from House Three Thirty. If they are able to enter workforces offering plumbing services or even use their finance training to navigate affording college, House Three Thirty will have made a major impact.
House Three Thirty is not so much an alternative to the I Promise School, but a program that works in conjunction with the school, helping those that cannot or choose not to benefit directly from it. I Promise School students and their families can also visit House Three Thirty, and those that lack basic needs like health insurance can speak to experts there about how to access more affordable options or obtain jobs that will help them make progress in the future.
People experience poverty for a wide variety of reasons. Much of the issues at hand are generational; and as the U.S. undergoes economic crises, even unexpected medical treatments can cause an individual to be in debt for decades. A resource like House Three Thirty will allow those experiencing poverty to have more options and to furthermore strengthen themselves on a personal level.